Introducing the Zolfe Classic GTC4
Conceived to fill the gap left by the tragic disappearance of several great marques, the Zolfe Classic has been designed to bring back the excitement and handling of a true British Sports Car, dressed in an attractive GT Coupe body inspired by a selection of classic car themes.
These include Datsun 240Z, MGB, Ford GT40, Jaguar E-Type, Porsche 911, Lotus Elan, TVR Taimar, 67 Ford Mustang, Opel GT, C3 Chevrolet Corvette and AC Cobra inspired wheel arches.
Underpinning the body is an intricate tubular space frame chassis with class leading torsional stiffness engineered to accomodate the well proven and highly tuneable Ford Duratec engine mated to state of the art Mazda gearbox and differentials.
Weighing just under 700kgs in Sprintz Spec with near perfect weight distribution and a range of power outputs, this pocket rocket combines exceptional road holding and performance to provide an exhilarating driving experience.
Packaged for two adults and weekend luggage, the Zolfe Classic is happy racing on a track or touring the roads of Great Britain.
Introducing Mucky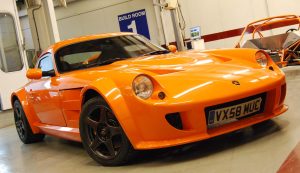 Mucky is the first road going and very orange Zolfe Classic GTC4.
WATCH MUCKY'S FIRST DAY OUT VIDEO HERE!
Originally built for Autosport 2008, it has been busy accumulating miles, whilst providing a practical test bed for engineered parts prior to production.